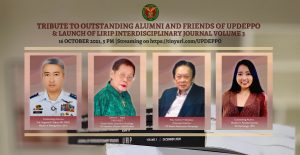 TRIBUTE TO OUTSTANDING ALUMNI AND FRIENDS OF UPDEPPO AND LAUNCH OF LIRIP INTERDISCIPLINARY JOURNAL VOLUME 3 (2020)
The faculty and staff of the University of the Philippines Diliman Extension Programs in Pampanga and Olongapo are pleased to invite the public to witness the first "Tribute to Outstanding Alumni and Friends of UPDEPPO," to be streamed on 16 October 2021, 5:00 pm, at https://tinyurl.com/UPDEPPO. The event will honor the following people:
Attorney Estelito Mendoza (UPD LL.B., 1952), has supported the unit since it was established in 1979. The original President and now Chairman Emeritus of the UP Alumni Association in Pampanga, he has provided unwavering support to the Association and to the University of the Philippines in Pampanga through the years.
Ceferina "Tita Cefie" Yepez (+), was a beloved former professor and grand supporter of UPDEPP. Since she started teaching in UP College Clark Air Base in 1972, she kept UP in Pampanga close to her heart, assisting all of its administrators in organizing the alumni, preparing for recognition rites, and linking with Clark Development Corporation regarding UP's status as a locator in the special economic zone.
Colonel Augusto "Gen" N. Padua (UPDEPP MM 2010), Metro Bank Foundation 2021 Outstanding Filipino Awardee. He is the current Executive Officer of the Philippine Air Force Office of the Assistant Chief of Air Staff for Operations, A-3 and referred to as the "PAF's airpower innovator for peace."
Miraflor Pandela Sanchez (UPEPSF BA Psychology 1993), is an environmental researcher, educator, and activist; founder and current VP for External Affairs of the Iskolar ng Bayan Foundation and president of the UP Alumni Association in Pampanga. For nearly 3 decades, Ms. Sanchez has rallied and led her fellow alumni in supporting the unit in its various activities such as the funding of the UPDEPPO Oblation, recognition events, and student assistance projects.
On this same occasion, the unit is also proud to launch the 2020 issue of Lirip, UPDEPPO'S interdisciplinary journal. Published annually, LIRIP is a peer-reviewed journal that serves as a forum for interdisciplinary studies by faculty, researchers, students, and contributors.